I agree, it really doesn't make a lot of sense. Feathering was originally added to paddles to make it easier for whitewater racers to clear gates without hitting them with the upper blade. It migrated to sea kayaks from whitewater. The only reason it works is that it's used with a "control hand" that always orients the paddle, regardless of which side you're stroking on. Because your control hand position changes between left and right strokes, feathering is necessary to properly orient the blade on both sides.
With an unfeathered paddle or a Greenland paddle, you don't use a control hand. The paddle is held loosely and hooked with the fingers of the pulling hand and cradled in the pushing hand. Unless conditions are rough, you don't even need to grip the paddle.
On the subject of shoulders, the paddles in the picture have pretty small shoulders. Here are some other examples, some of which have more pronounced shoulders: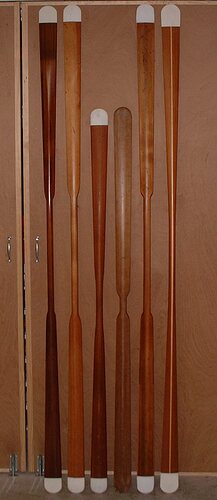 The two short paddles in the center are what is commonly called a "storm paddle". but that's another topic.