We just had a beautiful, classic fall weekend in New England. Saturday and Sunday were clones of each other. Bit of frost overnight, covering the boat and car.
However, as the sun started rising higher to the southeast, the temps inched its way into the 40s by mid-morning and 50s after noon hour. Clear blue skies, with an offshore (wsw) breeze cleaning up the easterly swells in the 3'-4' range. Water temperature was still a balmy 55 degrees.
Dragged the Dephin to the shore. Got into the 3/2 wetsuit with a semi-dry top and I was good to go!
Must admit, watching the boardies, there was a part of me that really wanted to be out on the waves and making moves on the waveski. However, after the bad showing last weekend with the longboat, I really want to redeem myself. It's part ego but also part challenge. I just don't like going out and having a bad outing, session, workout, or whatever physical activity and then leaving it at that. I am compelled to take another crack and improve on the performance if I can.
So, I did have much improved surfing with the longboat this weekend. Better control, longer rides and just a bit more laid back than the first longboat session. What made it better? Any one or more of the following factors: smaller waves (than the 6-7' of the first session); pulling my footpegs closer to the seat which splayed my thighs into the knee braces for tighter fit and control; and resorting to a Euro (a new 4-piece 192 cm AquaBound Shred ww) rather than the GP.
Here is the 7:20 minute video (teaser-stuff happens at the end, and shows once again why I think a SOT is better/safer option than a SINK for surfing):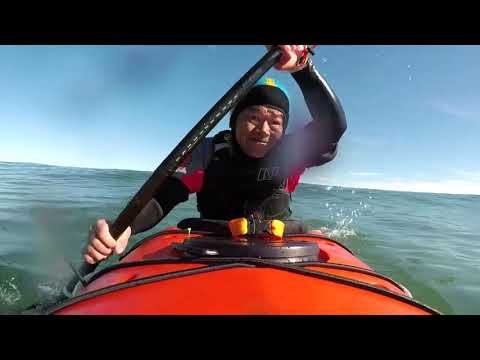 Mahalo!
sing