A little background first…
We have acquired a new to us Wilderness Systems Northstar Tandem kayak. According to the hull number it turned 20 this year.
This is a large kayak (18'4" long and 29' wide), and it weighs around 90 pounds. For reference here is a promotional picture I found online:
The kayak has a bow bulkhead and a stern bulkhead. I have tested both of them and they seem to be watertight. Well… one of them had a very small leak, which I applied some Lexel to, I will retest it later and seal it as needed.
My question is about installing some bulkheads around the center hatch. I have two reasons for wanting to do this:
Stiffen the hull for transportation.
Additional floatation for this large kayak.
A watertight bulkhead can be installed behind the bow seat and in front of the center hatch without problem. In fact, at one time there was a partial bulkhead in that location that someone removed. So this bulkhead is just a technical issue of cutting and installing. Any suggestions on that exercise are welcome.
To accomplish both goals a second watertight bulkhead would be needed behind the center hatch and in front of the stern seat. The problem is that the slider for the foot pegs (with the rudder controls) extend into that area. Here is a picture: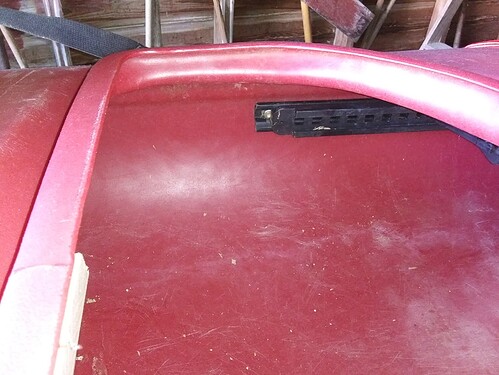 If I built the bulkhead around the slider:
Would a partially watertight bulkhead be of any value from a floatation point of view? (I think not, but wanted to ask.)
Does anyone have a creative solution to this problem?
If I cannot create a watertight space around the center hatch, then I will just make the second bulkhead a temporary friction fit block to use for transportation purposes. I could also add a yoga ball (or something) in the center hatch when we are not carrying camping gear for floatation purposes.
Thanks in advance for your suggestions.