Unless you are a Michigan fan.
Even then .
Spartan fan here - happy New Year to you!
An' a Hoopy New Yaar ta youz, Sir String.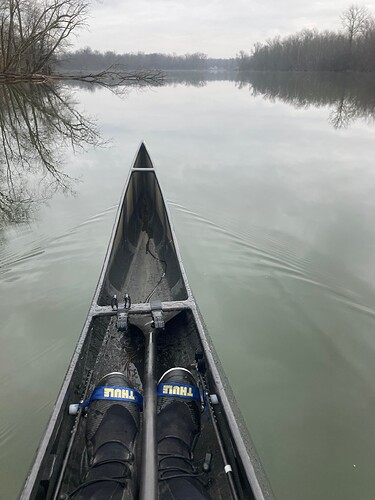 Only us and a few duck hunters out there today….
Happy new year!!!Good start to the year
Resolution: log my hours and miles with a bit more consistency…. Rule is that I must complete the mile and the hour to count it. Ie 10.5 miles is only 10 unless I go the next 1/2 mile. 2.75 hrs is only 2 hrs unless I go 15 more minutes. I generally track hours over miles but going to start tracking miles also
Happy New Year string. I hope that 2022 brings you even more time on the water than 2021.
As a badger it just breaks my heart to see Michigan lose so badly.
Happy and healthy 2022 to all!
sing
Happy New Year indeed. A short paddle up the Red Cedar & back I turned around at the log jam just upstream from US-127 as I have something else going on later today.
Darkstar. That's one reason I keep records and set goals. I don't get out enough, because everything else during my whole life took priority. I made it a rule if I think about going out, I consider why I shouldn't (such as conditions) rather than why I should. If I stand up, I go. Then once I get on the water, I fully commit. Because if you don't, you're body atrophies and you have to start the season all over again. All I want to accomplish is adding .1 to .2 mph to my last run.
Got out for a short trip - six boats, balmy temperatures, mist on the water, and no rain until we loaded up to leave. Nice way to start the year. Happy New Year everyone.
https://www.flickr.com/photos/eckilson/albums/72177720295652348
Had several different trips planned for NYD. But Mother Nature showed herself. Thus we paddled in a protected area, from the high winds. Just happy to be on the water.
That's as good as it gets.
My interest is due to a tendency by myself and others I practice with to commit to a timeframe and then cut it short. You cut a planned 4 hr training run by 15 minutes and over the course of a season that turns into a lot of lost time. And when I compete, we aren't given an option of just ending when we feel it's enough. The goal there with documenting that way is to help push me a bit farther, that's all…