Saw the sale on paddling news and thought I would let folks that might be in the market know.
Speaking of GPSs.
What make & model do you use?
What map sets do you use?
What do you like or not like about the GPS or map set?
How do you protect it (from water, etc.)?
Thanks for all the great information!
I've been looking into this watch as well! I have a very basic fitbit that I use when I'm out on the water, but I've recently wanted to get into SUP touring so I feel like I should get a GPS watch. Very tempted to buy this Garmin while it's on sale
I have an older Etrex 20. I like the compact size, and the ability to use micro SD cards. I have killed And old Garmin 12 and a Etrex 20 on the deck of my kayak while paddling on salt water so I use a waterproof case to keep it on my deck now.
I downloaded the free editor's choice topo maps for each state that I go to from gpsfiledepot.com.
The Garmin eTrex 22x looks like and up grade of the older etrex 20 and at $140 is a good deal.
Garmin eTrex 22x Handheld GPS Unit | Bass Pro Shops
The Garmin GPSMAP 64sx Handheld GPS with Navigation Sensor at $200 has a larger screen and has been reduced in price by $150. That seems like a great savings.
Garmin GPSMAP 64sx Handheld GPS with Navigation Sensors | Bass Pro Shops
Garmin Instinct Wearable GPS is a watch in graphite color it is $180, and I am tempted. It is truly waterproof.
A good friend has the more expense version with the solar screen that will charge the watch while you wear it . She really likes it but that one is $400, and not on sale.
Garmin Instinct Wearable GPS | Bass Pro Shops
Keep looking but always confused. Also looking at them on the net is not like holding and using. Personally looking at 400 or less to spend.
What I am looking for is the ability to pick a point on my trip and see the speed like I could on defunct Endomondo.
The previously mentioned 64 is quite a deal.
Don't know if it comes with the Bluechart maps or not, if you live near the ocean (or Great Lakes, I think), they are great.
Keep an eye out for sales on the Garmin GPSMAP 78sc (West Marine) for as low as $200.
I have a newer model (86sc (not inReach model)).
I don't like as much as the 78 (screen not very readable in sunlight)
As far as looking at the track info, the following is a piece of the data from a paddle a couple of days ago.
(note: I am a 4mph paddler, this indicates the outgoing current (tidal) is about 3; 3+4=7).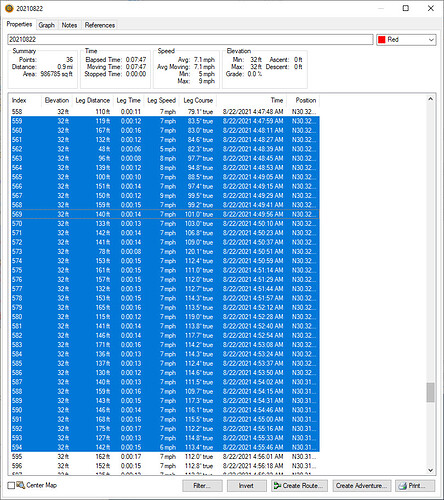 The 64 doesn't have the Bluechart maps. I have a chartplotter on my sailboat that came with the bluechart micro SD card, and use it in my etrex 20 when at the coast kayaking.
Here is the 78sc for $225 with free shipping. It has the coastal charts.
Garmin GPSMAP 78SC Marine Handheld GPS | The GPS Store
Doesn't tell me when I point on a course my speed.
You can do it for free.
I use an app called Geo Tracker (there are several, its from Ilya Bogdanovich) on my phone. I export a kml file to my laptop. It opens Google Earth. Earth has an Edit → Show Elevation Profile menu which shows speed at any point on the path.

Wife has a Garmin watch and it keeps working after a few swims.
After or during the paddle? My 78C gives you this…of course after seven years it also gives me that sun spot…note that this was at 7800ft altitude 2 weeks ago…at 0 ft last week it was not there. This has been swimming several times. Drying it out to be sure.
Screen shot looks like it came from Garmin Basecamp (free download from Garmin). One view shows the map from your device and the track. You can move along the track & see speed, time of day, elevation (on land) from either the data or graph view. You can also export .gpx or .kml files to use in Google Earth - the Elevation Profile that Kevburg is showing. Here is a cmobo screen shot from a saved track. GPS isn't plugged in so only the base map is available.
I'm unsure if you are looking to do the check on the device's screen or on a computer screen.