Sort of. When our children were that age my wife carried the load while I worked my butt off.
The current holder of that position is Honey, our 3 mo old Labradoodle. This time I'm carrying the load. Some days I can't wait for the sun to go down.
At first , she responded very well to our wishes but she has matured and is very inquisitive. She discovered freedom a week ago and never stops looking for it. Our old fence had several weak spots where she can crawl under. Every time she finds one, I plug it . She knows her name and responds unless something interesting catches her attention.
The good news is she is 97% house trained. No accidents in 2 days. Also , she approaches everything teeth first and they are razor sharp.I only bled a few drops today because I've learned how to avoid them and she's learning not to bite human flesh.
I'm still wondering why a 72 yo half cripple wanted such a creature. Because my wife told me I needed a dog.
Every time she sees a chance , she leaps onto my lap and nibbles my ears. I'm guessing she's about 20 lb, headed for 50-60.
What's this have to do with paddling?
I'm going to need a canoe. Should have kept the Malecite or the Rapidfire.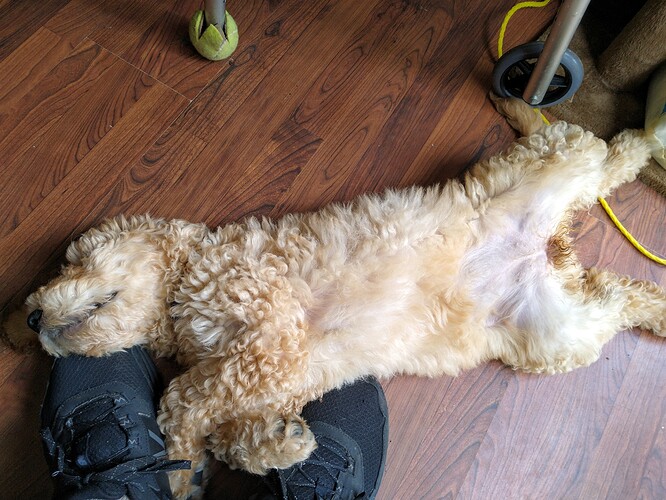 Ain't she pretty? Those are my feet under her.
I just patched her current favorite escape hole.
She studied what I was doing, bumped it with her nose and barked her displeasure.