Well, if the lamb is white and fluffy, I guess the saying is accurate
Quite nasty up here what with a week of high winds, freezing rain, sleet, hail, snow and more snow last night. Current air temp: 20F. Still looking at a foot of snow on the ground.
Not amused.
We had rain, and more coming tonight. Heading up NHTruckers way tomorrow
Not our usual spring. Normally everything is blooming. Not yet.
Stuck front hanging around here this weekend - looks a bit damp. We need the rain though. I'll head out to Weedon Island Preserve for a paddle on Sunday, but otherwise it is going to be an "inside chores" weekend. Next weekend I am planning to do the yearly varnish maintenance coats on the sailboat, so crossing my fingers for dry weather.
A little in the air but not on the ground here south of Lansing. We are glad that we didn't blow away yesterday though.
In like a Lion, out like a Lion seems to be more typical.
NE FL March:
(from log):
3/1: In like a Progression (Sterling)
temp 53°, wind 8mph NW, cloudy, 10.3mi @ 4.32mph
3/31: Out like a Petrel Play (Turning Point Boatworks)
temp 70°, wind 12mph S, partly cloudy, 10.4mi @ 3.76mph
March: 427.5 miles, avg speed 4.15mph
51 degrees and sunny is the forecast for tomorrow. Enjoy!
Raisins,I'm going to have to report your activities to the club at the meeting on Tuesday.
Our lion left his teething offspring. Sunny and cool this morning ; cloudy , 60°, 42% humidity now. I won't plant anything yet.
Very nice raisins.
Southern Michigan had lots if days in the 50's and 60's in March so I was able to paddle about half as many days as you.
We're expecting high 80's - low 90's this Thursday.
Why are you celebrating? A few inches of snow fell here over the weekend and snow showers are forecast for the rest of the week. Still have about a foot of snow on the ground.
That raises the level of the grump-meter a bit.
Had a little snow here a couple days ago but it melted off. Been off and on drizzle with occasional smattering of snow since. The highs have been in the mid 40s. Pretty dismal. This is the kind of weather Garrison Keilor would describe as God's way of showing non-drinkers what a hangover is like.
I went down to take a look at the river this morning. There's been a bit of controlled burning done this year before this last snow. Been a while since I've crewed on a burn, but its good to see its getting done.
It looked like this back in the sloughs: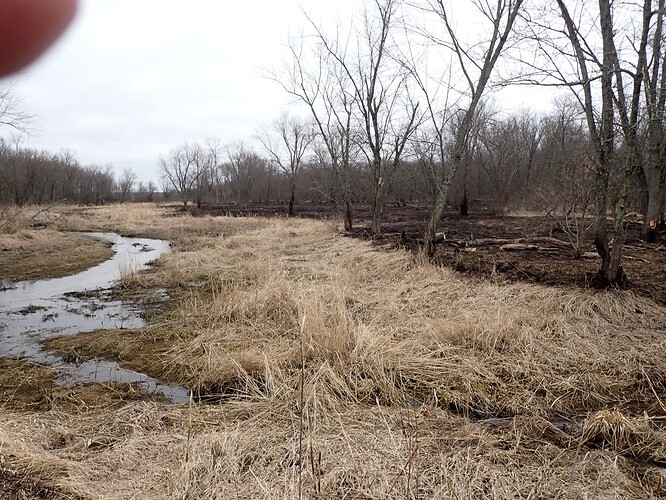 That was my sarcastic Yay.
Big time. The day before I was clearing a trail in a t-shirt and was sweating my buns off.
Ahhh. We need a sarcasm font.