Thanks for posting! Very peaceful evening and beautiful area!
Paris! So nice to see you again!
Paris gets to see more places than I do.
Nice video.
I used to have a dog that would point salmon from a canoe.
I used to take my old dog out at night in the FL panhandle for bluefish. He would stand on the bow of the flats boat and he would essentially "point" to the schools as they moved through. I always assumed he could hear them, because the only light would be moonlight. He was amazingly accurate.
I am teaching my Border Collie to gather firewood.
…and/or smell them. Trout schools often emit oil that comes to the surface. Blue fish got oil too.
A young couple walked by this morning with 2 huge dogs I couldn't ID , so I asked.
Rhodesian Ridgebacks who weighed 150 #.
Dogs immediately recognize dog people so they brought their owners to see me. Very friendly pups unless you are a

.
That's supposed to be a lion.
I like Paris' ear position. Semi-alert and semi-relaxed. Ho-hum another moose.
My mutt gathers firewood but she keeps it for herself.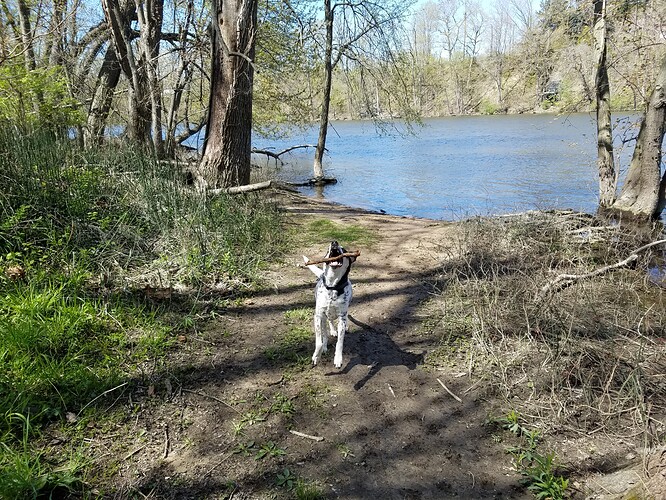 My son had a great dog who also gathered firewood, the longer the better .Then she would gnaw it to pieces.
Not all ridges go 150, but great dog always! Interesting to see in a conflict if you ever do see them unhappy with another critter of comparable size… they do dish out the lion treatment which is a bit of a surprise to most…

looks very peaceful!
There is nothing like a good dog.
I really like Border Collies.
Unless it's a good woman. A man needs both. As long as she likes dogs.