Decorated my boat (home) yesterday - just two strings of lights but it always makes it so cheery inside.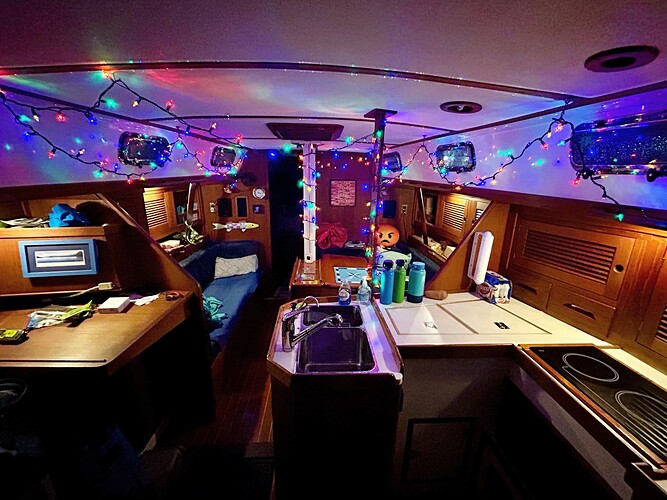 A few joyful lights as a distraction from the the deserted dock and black ice-covered lake. Is it spring yet?

One of my local club's traditional December paddles is escorting Santa into Wickford Habor.
It's amazing to see how many people come out to see Santa arrive at the dock on the fire department boat.
This is my canoe decorated for the trip in 2018.
The trip has been cancelled for the last two years due to the pandemic, but Santa's elves will be out again this Saturday to escort Santa into the harbor - weather permitting - we might get a storm…
@eckilson I did that paddle several times when I worked for the Kayak Centre. Lots of fun - I was always in charge of buying piles of candy canes to throw to the kids. Usually chilly, especially the nighttime paddle, but always a blast. Good memories! I have an old pic of me in that paddle, I'll see if I can find it.
We used to give out candy canes to the kids - won't be doing that anymore…
We usually do the Saturday - Kayak Centre does the Friday night and Sunday. Saturday might get washed out this year.
Made the biggest mistake of my life in Wickford
Can't leave that one hanging - what was it?
Lot of people make that mistake.
Couldn't get much farther away from where you are now