We had a snow/rain storm come through New England on Friday, and are in the process of getting one this (Sunday) evening. The waves were head plus yesterday and messy. I waited until early this morning and got some clean 3' swells with light offshore wind. Did feel like first "winter surfing" as the air temps were around 30 degrees and the water temp about 43 degrees. (I usually feel it most with my hands. Thankfully, with mitts, I can ball up my hands to warm up while sitting on the outside of the break zone.)
I'm much more used to and adept with the Euro paddle in surf, while keeping a Greenland paddle as a spare on the back deck. Today, I left the Euro in the car and committed myself to using the Gearlab Aukaneck (Greenland style surf paddle) for the whole surf session. Never fully got the hang of it although I felt a bit more comfortable towards the end with respect to understanding the speed pick up of the sprint and directional control.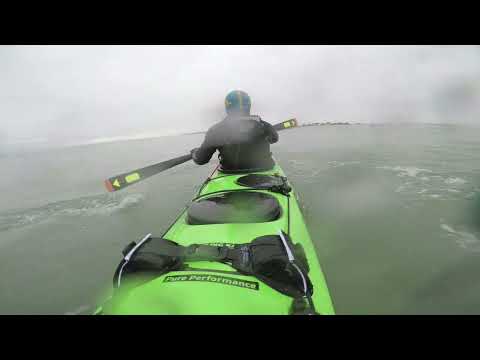 Today is Lunar New Year. Was grateful to have some waves to "hop" on in the year of the rabbit.
Largely, my thoughts go out to my extended community in Monterey Park, CA, in what should have been an auspicious start of the year…
sing