So true. 16 years ago. Lots of tough and a dangerous lack of caution.
I am in agreement. Ice just before break up has a very unstable structure. It is not interlocking but rather a columnar structure. Its quite easy to paddle through candled ice.
The allure of easy paddling though ( and usually the warm air that coincides) has however deceived many and lead to their death. May is a cruel cruel month.
I often paddle with ice…in the cooler. That's the way we paddle the winter in Florida.
Ice is bad news.
Anchor ice on the edges of rivers is usually okay. Ice in the middle of a river can get you drowned real fast.
Ice on big bodies of water means extreme cold.
The fun goes away and the danger increases by a lot.
I would not paddle around ice.
Go for it
Went looking for water to paddle in wv after a cold snap, only open water we could find was on the new below bluestone dam, problem was shore ice, finally found a place we could take out. If somebody swam there was no going to shore, rescue would be done to rocks in middle of river. fortunately all went well, ice is like fire , got to respect it, Dont want to get burned, had a great time but risk factor was high
These guys and gals love ice canoeing !
https://www.ville.quebec.qc.ca/en/citoyens/patrimoine/quartiers/vieux_quebec/interet/course_de_canot_a_glace.aspx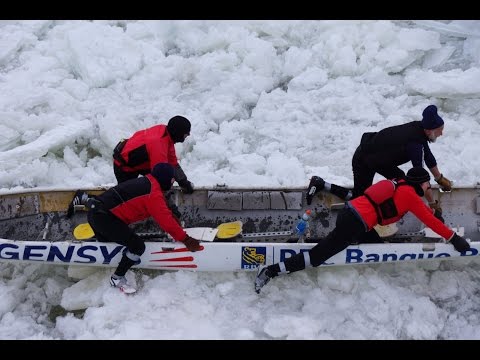 I pretty much paddle year-round here in Maryland. Once it gets really cold & freezing, I carefully check the weather & wind reports for strong textcalm strong textsunny days. It's very very refreshing & liberating to be out on the water & break through ice as it forms on the edges.

And here I was hoping to see some of the Superior Winter Boardies out having fun.
Have to say that those waves looked pretty good. Sizeable, relatively clean, no visible chucks of ice (the only ice chunks were floating along next to the spectators). The line up/take off position would be near the tail end of the canal. Catch the channeled waveface, surf it past the canal opening where the wave would dissipate into the deeper water. Have a relatively easy paddle back to the channel opening; watch and time the waves; and paddle quickly back to the take-off/line up spot to catch the next ride.
You can tell that I was mesmerized by those waves. (My siren call…)
sing
I did some pretty stupid things in my teens and 20s. I'd say that adventure with @NotThePainter was stupidest thing I've EVER done. Would I do it again? NOPE. I know better now.
If the ice is solid use ice climbing picks. I had a customer come in and talk to me all about them. They allow you to drag yourself along really easily and you can get up onto banks pretty easy too. Ice climbing picks also let you get places that you normally wouldn't be able to get to in winter. Definitely worth a try if you ever get the chance. Have fun and dress safely.
If you're talking about the small, handheld picks that are designed for rescues, they're not used for ice climbing. They're commonly carried for ice fishing, in case you happen to fall through and have to self-rescue.
I for some reason I was forced to paddle in ice again, I'd want a pair of the rescue picks and would consider carrying an ice axe on my foredeck. However, the likelihood of that happening is about zero.
One of our Club members went paddling on the Potomac when ice was breaking up, in spite of being told it was a stupid idea. When he returned to the launch the ice shifted and he became trapped and couldn't get back to shore. He had to use his VHF to radio for help as he was losing daylight. The harbor police responded and were able to help him out, but one of their boats sheared a prop and they had to be rescued as well.
My boat has a sloped bow and can go through thin skim ice, but my wife has a QCC 600 with a vertical bow. Skim ice stops her cold.
We carry those for snowshoeing on the lake… Must have for any winter traveler. If you are going to have to pull your self along you might consider an ice axe.
I have lots of ice tools from my climbing days, but somehow it doesn't seem that ice climbing and kayaking should mix.
It was This is the Sea IV or V where she documented the Antarctic trip. But they had days when ice pushed 'em back.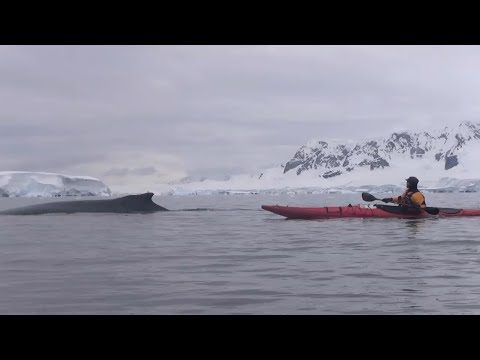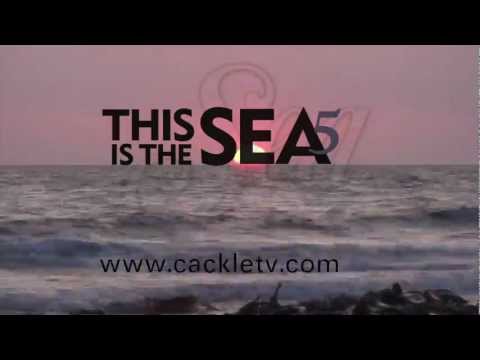 I'll sometimes carry a hatchet on our winter AuSable overnight trip. We will sometimes get ice shelfs at camp and often at the takeout.