Got the Dagger Stratos 14.5s to be my surf/rockplay boat because I decided it's not worth taking a chance and smashing my carbon/kevlar Sterling Progression. The Sterling is like Porsche coupe in the surf - fast and highly maneuver. LOVE this boat! And, thus, not really wanting to risk damage to her in rockplay.
I got rid of my P&H Delphin 150 least year and upgraded to the Sterling. Here I am, a year later,adding RM surf boat back into the mix again. I lucked out and picked up a good conditon Stratos 14.5s (my size) from the local craigslist.
First trial was in 5-6' wind swells with 6-8 second intervals, accompanied by a diagonal onshore wind. The waves were disorganized and closing out more than peeling. The second trial was with better waves – 3.5' @ 11 seconds with light onshore wind. I was delighted and relieved that the boat handles pretty well and is manueverable on the wave. I just needed to figure out where to shift my weight and lean in the seat. Big difference!!!
Maiden voyage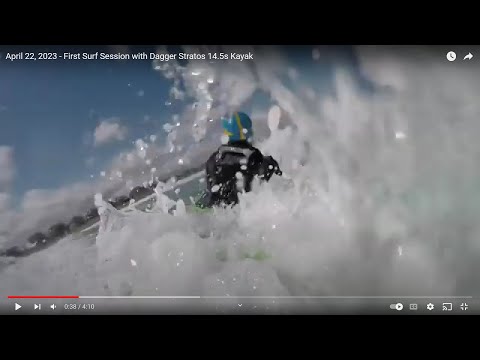 2nd Stratos session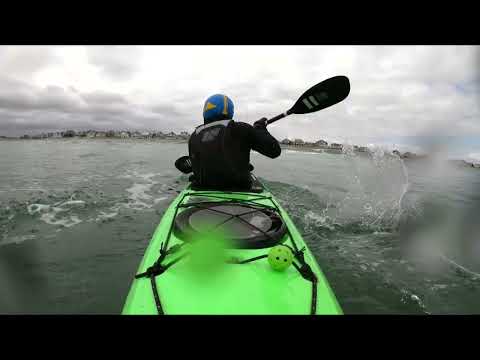 The Stratos does not come close to the performance of the Sterling in speed and manueverability. But, it will do fine for a rockhopping boat that is capable in the surf. I think the Stratos is slighly more maneuver on the wave than the Delphin because of its shorter length and/or (higher?) rocker. But, it does not paddle as fast as the Delphin. But, for me, I trade for more manueverability on a wave in exchange for less speed on flatter water. This is just my priority for what I normally want to do in a kayak – that is to play in textured water!
Look forward to getting more waves and more time in the seat!
Mahalo!
sing