I remember the day well…buying my first Canoe. My previous canoeing had been on ponds and with my Dad on pretty tame water but I was a Young buck, newly married and as Young Bucks are prone to do I wanted the Fastest Canoe I could find and the Salesperson saw me coming. I left the Store with an Old Town TRIPPER ! 100 pounds of Paddling Pig.
With the Boat on top of the Van I was off to Bar Harbor, Maine. Being more than a bit impatient I climbed into my NEW acquisition and hit the Water…Alone. While common sense dictated that I remain behind the Barrier I was having none of that and turned the corner from the Safety of the Harbor straight into the Open Sea. After all, what could possibly happen?
I instantly discovered what could happen as my Canoe was sucked out to Sea and I was totally out of control. With very large Swells making turning around completely impossible I suddenly realized I was an idiot…and I was CERTAIN that I was about to meet my Maker. For about 30 minutes I looked all around me and watched the safety of the land become smaller and Smaller. Was I Scared? You bet. I was SERIOUSLY Scared and due to the fact that the Movie "Jaws" was currently #1 I was fairly sure that I was soon going to be eaten.
I write this not to be Comical in ANY way… cuz in the Words of Clint Eastwood as Dirty Harry…"A Man's GOT to know his Limitations." … and I should have known better.
As my life was flashing before my eyes and I had truthfully given up hope I could see a fishing boat approaching…and I began screaming for help. They saw me and headed in my direction. They tossed me a line and pulled me alongside…then pulled my Tripper on board as well. After getting my butt handed to me by the Skipper they took me into port where I was unloaded, schooled once again and went on my way…my Canoe and I in the care of a kindly Woman driving a pickup truck. Back to the Motel I was staying at we went. I was humiliated.
I learned much that day. Did I quit canoeing? Nope. I learned as much about canoeing as I could and went on to start a Canoe Club in Upstate NY…the Ahwaga Canoe Club. After 5 or 6 years I moved out of the area and it became … http://www.ackcny.org
The Club was a Massive Success with 2 or sometimes 3 trips a week, often 30 boats on each trip and Safety was Concern #1. I highly recommend that if you're just getting started in Canoeing or Kayaking that you take a few lessons from qualified instructors. Don't be a Bonehead as I was.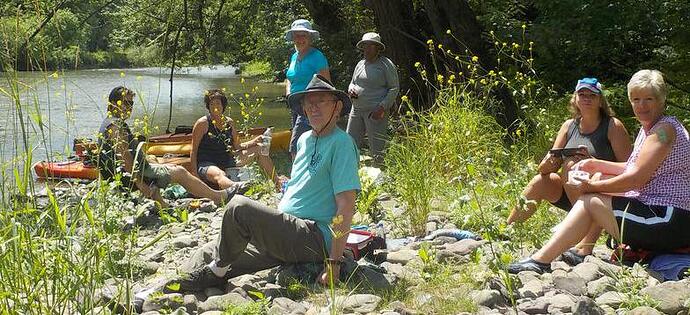 The Bottom Line here should be obvious. NEVER go boating alone unless you're on a Small pond. Always wear a PFD… KNOW WHERE YOU'RE GOING.
Be safe out there my Friends. Many thanks to paddling.com for what you do.
Rich Briere