I recently picked up a Old Town fiberglass Stillwater 14' for cheap and in need of some TLC. Ive been looking for a fishing canoe and something that my dog won't tip, and this fit the bill. Ive had fiberglass boats since I was a kid and have been repairing them just as long. Im sure someone out there wants to tell me a plastic boat would do just fine for my use, but glass is a personal preference.
The boat came with multiple layers of paint over the gel coat, which I've been working through with a combination of citrus strip and elbow grease. Under 2 layers of urethane, someone slathered on a coat of clear epoxy, which is chipping in some places and patchy in others. As one would expect, the stripper does very little to break down the epoxy.
Underneath, the gelcoat actually looks to be in pretty good shape, and its a shame the base finish wasn't better taken care of. Anyways, Im not trying to decide the best course of action: 1) sand the whole thing until the epoxy is gone, replace the gel coat if needed and buff it pretty, 2) sand lightly to get the loose epoxy off, apply polishing gel coat compound indiscriminately, and accept a splotchy finish, or 3) leave it as is and keep it as a beater boat.
I've tested option 2 on a section of the boat as you can see below. Sanded lightly with 320 grit, then 600 grit, then 1500 grit, then applied a gel coat compound with a buffing machine: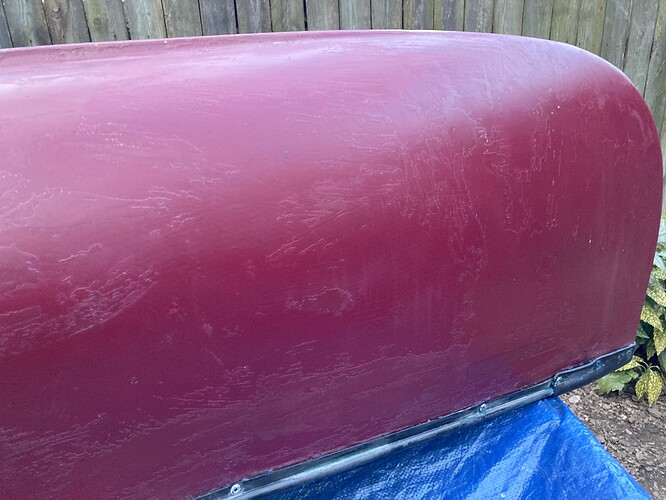 Not horrible, but not that pretty either. What do you think? Has someone out there encountered a similar issue and tried to take all of the epoxy off? Ive read plenty of posts about getting rid of epoxy fingerprints and other small areas, but never the whole hull. Would I be a true masochist to undertake the effort to sand the whole thing down delicately, taking great pains not to dig into the gel coat???
Note: Since Im new to the forums, I can only upload one photo per post. More photos below!