Your favorite weather app is?
Why?
I don't have one, I use several.
NOAA Weather. It duplicates the information I get on my computer from the National Weather Service. Simple, easy, I can save locations making planning easy. But mainly it just duplicates what I get on my desktop, so I like it as my go to general weather app.
My Radar. Quick and easy way to see what the nearby weather heading my way is. I could get to that information other ways, but this is a one click deal, which I want when I am concerned about what is going on radar wise. It also provides a weather forecast, but I find it awkward to use for that. But as a quick look at the radar, it is great.
Marine Weather Forecast, Blue Whale Apps. Duplicates the National Weather Service's marine weather report that I can get on my desktop. Simple, easy to read.
Weather Underground. Second opinion when the weather is iffy. Also gives me sunset time and a few other things. The hourly forecast is easier to use than NWS's.
Windfinder. This seems a bit more accurate than NWS's, and it gives several forecast points in a day. It also gives weather and tides, btw, but I find other apps for those better.
FEMA. for when the weather is getting concerning. My Radar feeds the same alerts to me also, but FEMA gives me the details.
I also have several that I use.
NOAA (7day point forecast. Also gives the marine forecast if you click on the water.)
My Radar (with weather alerts. If you click on the alert area it gives the details.)
Weather Underground (10day and hourly forecasts)
Ventusky (very good for wind forecast also has many other weather Parameters)
Windy (for longer range wind forecasts.)
Then there are the NOAA weather radio forecasts on my VHF, for when there isn't cell tower coverage.
I like weather bug I can see everything each hour by just scrolling and not clicking and opening each hour.
Also have rule to listen to weather on VHF as I gear up and get alerts when out paddling.
Weather.com is always popping up to sell me premium service with 15 minute intervals. That's about as far as they can predict. The other day forecast was for heavy rains just about all day. Then between 1AM and 6 AM % goes to near zero. We got a few drops literally for 60 seconds.
Like to put my own weather station on top of the house. I have my Kestrel Meter which is good also.
For tides I use (tides near me)
Windy! windy.com, and/or app on phone. Really nice graphical display, tons of options, choices, and includes wave/swell info for coastal stuff. Let's you choose your forecast model and can go out as far as 11 days.
not a 'smart phone' owner, though if I was, weather & marine traffic would a couple of favs (it would be nice to know where those freighters are before crossing the river).
At home, prior to my daily stretch, I pull up 'windy.com' and the local forecast (with radar).
I also use windy to let me know if there are any sizeable waves on the coast.
Between June and October, I use nhc.noaa to let me know of possible hurricanes coming my way, then data.tcpalm.com/storm to show me the spaghetti models.
I live in Florida, so, in summer, local radar is important.
I have tried and dropped four local apps because they don't use true radar, they estimate and throw out a graphic.
You don't want to be on a river in a thunder boomer, but I have been because the app I looked at, at the time, said that storms were miles away.
I'm still waiting on one that works right.
MyRadar. Loads fast and the various layers such as wind, lighting are very useful.
Forecast wise, I swap around.
@CraigF I hate those "future radar" animations. So many times I'll watch the past loop to see where the storms are going, and when it switches to the future loop the storms completely change direction. I wish I could turn off the future loop.
I use weather.com, WindAlert, a tide app imaginitively called "Tide Chart" and the NOAA marine forecasts and NOAA Ports water levels. Tides can be very impacted by the wind here on the Gulf coast of Florida, and knowing if the water levels are above or below the predicted levels can mean the difference between having a nice paddle, and walking a long way through the mud, or not being able to get into some of the mangrove tunnels.
Windy is good too you can see if wind will shift during you excursion.
Not an app but I watch weather underground's 10 day forecast before I go on extended trips. Ad loading can be brutal by phone though.
I especially appreciate the wind speed/direction plot. Is there an app that provides that?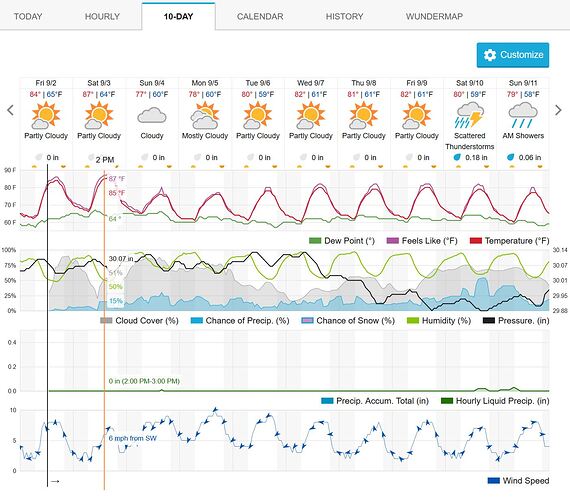 @Kevburg WindAlert does, in a slightly different format. There are several similar apps as well, Sailflow and a few others that I forget the names of.
I know the thread is asking for an app, but I have always just used weather.gov and their hourly weather forecast. It isn't fancy but it is information dense. It allows me to see hourly temperature, humidity, rain probability, thunder probability, wind and wind direction, and sky cover on one page. I find it a good one stop shop for weather info. Also it doesn't have adds, which is nice.
For my more immediate weather needs, particularly when the weather can turn quickly (any summer afternoon in Florida) I go to the site of a local news station that has its own doplar radar.
NWS phone app and on laptop. Windy also on both devices. For local weather I trust the two companies who operate the horse carriage tours. They head for the barn before it gets rough.
Deepzoom.com (not an app but can be saved as a shortcut to your phones home screen and behaves like an app).
Ability to create routes, trips and combine forecasts of tides and winds all in one neat package.
Weather.gov NOAA, Windy (which also has a nav function, but it's tough to use on a phone), Tides Near Me.
It should be noted that there is both a "Windy" app (red logo) as well as an app named "Windy App" (blue logo) that is unaffiliated with Windy.com, and although the app is decent and has a good UI, they restrict a lot of useful features to the premium subscription tier.
The red logo Windy app still offers a subscription tier, but the free version is pretty full featured, and I find it meets my needs.
MyRadar has a layer that shows wind speed and direction.