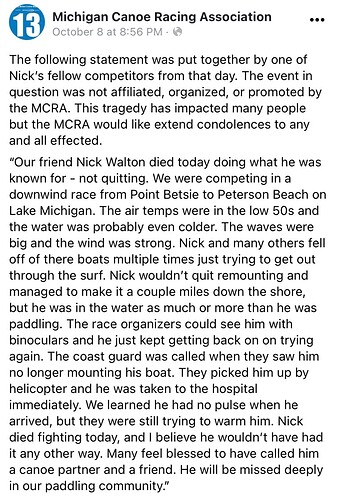 https://upnorthlive.com/news/local/coast-guard-called-in-to-rescue-kayaker-near-frankfort?fbclid=IwAR2slmi58Ezo8xbLrM-iqxGbA-rFe-8Omav0f3I9xg8O2qNHyEI7S8Z8z90
Anyone who knew Nick couldn't help but be inspired by him, he was an amazing man and a fierce competitor.
I'm both saddened and angered by such an unnecessary death.
He was paddling a sufski in a race that never should have been held that day because of 6'+ waves and 20+ knot winds with posted red-light beach warnings about the conditions.
The organizer, 4th22, scheduled it as a weekend long event, October 8 and 9, and could have run the race on the 9th but didn't.
This evening a local television station announced it was going to do an in-depth investigation as to why the race was run in spite of all the warnings. That is, if any of the race organizers will speak with their reporters.
Coast Guard boat could barely clear the break wall.
I can't read whole article on my phone. Did he have a PFD on ?
Many surf ski guys race without them I see. Did he die from exposure?
God bless him.
Org. will cease to exist after the lawsuits.
PFD required.
"By Justine Lofton | jlofton@mlive.com
FRANKFORT, MI – A man died while participating in a kayaking race on Lake Michigan over the weekend.
Around 2:10 p.m. on Saturday, Oct. 8, rescuers were called to Point Betsie near Frankfort for a report of a kayaker who was in the water about a quarter mile offshore, according to U.S. Coast Guard Station Manistee. The subject had been in the 50-degree water for about 90 minutes before rescuers arrived on the scene. Conditions included waves of 6-7 feet.
The subject, identified as Nick Walton, was wearing a life vest and wetsuit.
Walton was hoisted out of the water by personnel from U.S. Coast Air Station Traverse City, which took him by helicopter to the Frankfort Airport where they met an ambulance that took him to a local hospital, according to City of Frankfort Fire & Rescue.
Walton was pronounced dead at the hospital.
Station Manistee recovered the kayak."
I could read it above 90 minutes in 50° water or even colder they said. That's tough in a wetsuit more so if you're thin. Feet and hands possibly exposed along with his head. Breaking waves on your head. Sad so sad. Looking for temps of water in that area?
59 may be a bit less is cold. Possibly a heart attack?
My understanding was they initially responded to one area but then relocated due to sighting Nick quite a bit further away. He was reached by helicopter before they could get to him by boat. Seems like it was a long time from initial call to rescue
Traverse City is on the West and East arms of Grand Traverse Bay of Lake Michigan.
Frankfort is on Lake Michigan - Green Bay, WI is on the other side of the lake.
Water temps will be different.
From the MCRA:
·
The following statement was put together by one of Nick's fellow competitors from that day. The event in question was not affiliated, organized, or promoted by the MCRA. This tragedy has impacted many people but the MCRA would like extend condolences to any and all effected.
"Our friend Nick Walton died today doing what he was known for - not quitting. We were competing in a downwind race from Point Betsie to Peterson Beach on Lake Michigan. The air temps were in the low 50s and the water was probably even colder. The waves were big and the wind was strong. Nick and many others fell off of there boats multiple times just trying to get out through the surf. Nick wouldn't quit remounting and managed to make it a couple miles down the shore, but he was in the water as much or more than he was paddling. The race organizers could see him with binoculars and he just kept getting back on on trying again. The coast guard was called when they saw him no longer mounting his boat. They picked him up by helicopter and he was taken to the hospital immediately. We learned he had no pulse when he arrived, but they were still trying to warm him. Nick died fighting today, and I believe he wouldn't have had it any other way. Many feel blessed to have called him a canoe partner and a friend. He will be missed deeply in our paddling community."
Very sincerely, way to live your life Nick Walton! I admire what you were doing when something went wrong.
And to Nick's family, friends, and fellow paddlers, I'm sorry for your loss.
It sounds like he was energetic and determined, that eyes were on him the whole time, and the conditions sound reasonable enough for a thrilling go at it given you're dressed and prepared for wet, wind, and extended swims, and have an idea of what you're getting into. I seriously doubt anyone launching had Disneyworld delusions.
I remember a downwind race I participated in where only a handful of the planned participants gave it a go. Some SUPs, a few surfskis, and 3 sea kayaks. We had had several days straight of south wind, 20-25 knots, along a mostly east facing beach with a bit of tilt towards the south, with short period solid 5-7' seas. I remember being so happy that they were still going to make a go of it for the few that still wanted to go. I remember them carefully explaining that conditions were too rough for any of the planned support boats, that we would be on our own out there. Only one of the sea kayaks made it out off the beach on the first attempt. I was not that one. I ended up back on the beach out of my kayak. I emptied it, and I remember a couple people questioning me as I was jumping back in to relaunch. "You're seriously going to launch again?" I had gotten blasted out there on my first try, and it must have looked as crazy as it felt. But the idea of not trying again hadn't even crossed my mind. I made it out on my 2nd attempt, and had a fun 10 mile downwind run.
Only those that keep at it develop the skill and gain the rewards of the experience. I know it isn't risk free. I have great respect for the ocean and the Great Lakes.
Unfortunate things happen to people in all kinds of different circumstances. The impression I get is that something unexpected may have gone wrong outside of conditions, skills, and physical abilities. One moment he's going for it, paddling, swimming, scrambling, paddling, repeat. Then suddenly, he's not. No mention of struggling to return to shore, but unable to make progress. I also understand that news stories can get enough incorrect details, and miss enough details, to allow misunderstandings of what actually happened. So my impressions may be off base.
If we could ask Nick Walton who is to blame, is there any chance he might ask "Blame for what?" As a general rule, someone on shore keeping an eye on me and alerting help as soon as they notice something seems wrong is far better than I have most of the time I'm on the water.
It's very sad, but I don't find myself questioning anyone for their part. I'm more of the celebrate Nick mindset.
In my original post but thanks for putting it there in text. The message is what's important, I looked up to Nick in many ways
Darkstar, in your opinion are there any lessons to be learned from this tragedy?
From my limited knowledge so far of the scenario, but knowing the mindset of Nick and the other participants, we are always going to push the challenges and live on the threshold of danger. He did everything that I would have done it seems, "fall seven times, get up eight" He lost this one but it's further inspiring to know how he went out, always trying to get ahead. He wasn't unprepared, the lake just won…. If he had a watch on(likely) it could contain important details, hr etc, that could help us understand what happened
from a rescue standpoint, It took a while to reach him, partly due to spotters not having initial intel on location. An epirb/ tracker may have helped, as well as a better safety/ support plan from the race it seems but again I don't have all the info…
I will always be inspired by Nick, and am sad for his family but like a lot of us, he did it his way.
I do hope that his cause of death is reported at some point. There were 26 entries in the race. Obviously something went very wrong.
Downwind racing comes with inherent risks.
Piloting an extremely skinny craft in winds strong enough to create the desired conditions far offshore will always be a gamble.
This is a bit of an extreme sport not unlike: free climbing, big wave surfing, freediving and wingsuiting.
Too much mitigation of risk takes away the very element that is attractive for many.
This man was clearly a warrior, living life the way he wanted.
Unfortunate loss. My condolences.
Meanwhile, those who didn't make questionable choices were called on to risk life and limb to attempt a rescue. There were warriors out that day… not sure it was the deceased.
Sorry to hear this.
Risk is accepted in good downwind conditions though. Its part of the necessity and appeal. Fun doesnt begin until 4 feet and 25 mph downwind. Cold water reduces the margin to death quickly though, and on the great lakes the best waves are now thru early winter. The margin isnt thick.
If you look at my recent post, you can see some video of similar conditions from a couple weeks ago on Superior. It was real. Ocean like. Big. They were gnarly. My friends and I are all experts and we all swam at least once. It is well known in our group, as a couple were part of a downwind on which a guy died, the risks of a big day on cold water.
This is particularly surprising to be because of the proximity to shore and help. People saw him struggling and still rescue was not fast enough.
EDIT - I see more precise water temps of 44*!!! Thats freezing and everything makes sense now . I would be very curious to know what thickness of wetsuit he was wearing for my own reference.
Ultimately, in true, big conditions, help is always far away. If you cannot remount and stay upright you're #u@ked. I say "Remount is God" and I guess I should add stability is god". If you cant get and stay upright, you're in a bad situation real fast.
Remounting is very taxing . Especially if you're paddling hard in between, adrenaline pumping. Even more so if you're cold after the first couple swims. If you cant put together enough seat time between swims, its easy to get cold and lose further dexterity in a spiral of less successful remounts.
Im surprised about a beach start though - we started and finished our big downwind at protected beaches without breaking waves. If they launched into breaking waves that's a recipe for a world of hurt right off the bat?
The race organizer was right to run the race. The best days are the biggest days. Its up to us all to know when we call it quits. Many of the top races in the world are dangerous. Its inherent to the sport and an accepted fact to be mitigated, but not eliminated.
In response to anyone who asks wtf? Why? Im called to big waves like you are called to church. If I die on a big wave day I take the Klingon attitude and modify their battle saying slightly - If I die doing what I love, it was a good day to die. We just try not to and enjoy the ride. To ride on huge waves is to fly on angels wings.
Edit from above - If the water was truly 45* and conditions were that gnarly, I would think the organizer should require a minimum of 3mm wetsuit, and more realistically a 4/3 or 5/4. My 3/2 in 45* water would be bad times really fast. Hand incapacitation in 45* water happens fast. Its no wonder he started to fail remounts. Dexterity goes fast at 45*.
Especially if you swim at the start, that means you're cold from the word Go.
This race made a lot more sense when I thought the water was 55*. at 45* your margin to death is very, very low. Unfortunately for nick

45° is really cold and deadly. Doubt most guys racing wear the thicker side of wetsuits. If you're racing and chosing to go out you should know what to wear. Competition dims common sense probably. Others are at risk trying to save you. When I raced offshore boats there were paid dive team's to do rescues. So maybe they should have paid rescue teams at an event. We know that's not going to happen for 25 people racing kayaks it's cost prohibitive for dive teams in choppers. Some people had their own chopper and dive team following them. Two many accidents and they felt rescuers would be overwhelmed they'd call the race but it was rare. First race boat to pass a accident had to stop to try and aid it. Rough race you'd want to be out front to not have to stop. Probably led to more accidents.
Anyone involved will most likely be sued even with releases signed. Comes back to should people be charged for rescues, especially in an organized race in tough conditions.
Regarding that matter, my only real issue is that the race director didn't seem to have a safety plan in place. The racers did their part to prepare…What makes it even more perplexing is it appears that he put out an appeal to have volunteers on jet skis for the race. What happened to them? And at the very least, a dialogue with local first response to be on hand or ready… 90 minutes from call to rescue is a long time
How are jet skis in 7' waves?