For my new Northstar Tandem I am planning to replace the bungee cord and the perimeter rope.
The current cording is as shown in the pictures below. I have a few questions:
The current bungee cord is in the typical cross pattern but, it then extends down both sides of the cockpits and then also has a loose section that is about 4 feet in length which has been pulled back up beside the cockpits and tucked under so it is not hanging completely free. The kayak also has a complete perimeter rope (both sides, front to back.) I do not understand why the bungee cord extends beside the cockpits nor why there are the loose sections. (None of the pictures show this very well but you can see the ends of the loose sections in the first and third pictures.)
Should I keep the bungee cord beside the cockpits in addition to the perimeter rope or just have the perimeter rope beside the cockpits?
Any idea of the purpose of the loose sections?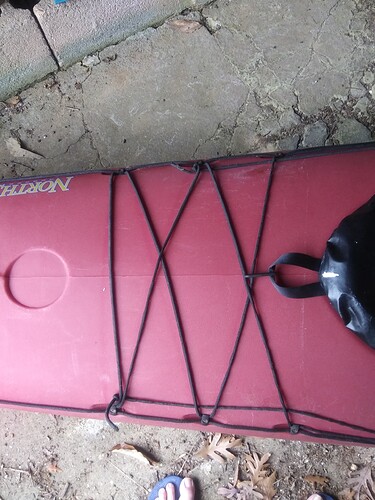 Thanks for all the good advice!