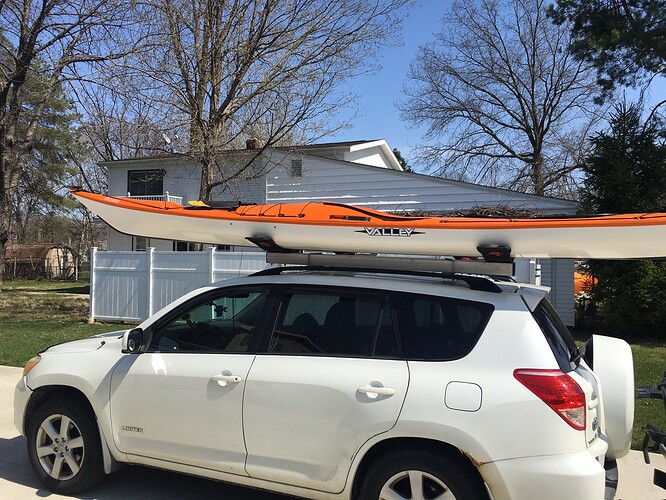 Using the OE bars on my RAV4 put the rear cradle too far forward of the rear window spoiler. If I wanted to load the boat myself, I had to put a folded towel on the spoiler and risk the boat sliding sideways and off, since I'd be 18-ft away while sliding it up.
I thought about the surf ski racks I'd seen, and contacted a few surf ski rack retailers, but didn't like the angle of the V. They all offered various amounts of foam inside the V, which would take up some of the difference between the hull angle of my boat and that of the rack, but eventually I hipped to the idea that I could just mount my existing Malone wingracks to a longer support bar and get everything I wanted. Now the rear wingrack is much farther back, allowing me to place the bow of the boat into it and then letting me just slide the rest of the boat into place by myself. All the parts (except the wingracks, obviously) were sourced from McMaster-Carr, except the plastic caps on both ends of the alumimum square tubing, which were purchased from Amazon.
This setup allows me to easily load/unload my 18-ft boat by myself AND provides such a wide span between the supports, I don't usually even use a bow anchor line. The wingracks are positioned directly under the front and rear bulkheads.