My favorite Solstice

CD Expedition I just got may eclipse the Solstice. Only out in it twice. Turns easy, very fast, comfortable as hell.
PaddleDog, did you run out and fetch yourself ANOTHER kayak? Good boy.
LOL, I really shouldn't look at Craigslist. I haven't had a WW boat in many years, but for some goofy reason, decided I should pick up an old Pyranha on the cheap. Hopefully, I can work on my mad skillz (read: rusty and lacking) before next spring when the rivers get decent. If not, I'll sell it for cheap or rob the outfitting for a project. I've gotta go stash it in the shop before the wife gets home…
…or a really cool orange top carrier

Haha, that sounds better than my back-up plan, which is classy front-yard planter for the Bride's rose bed.
Last one now. Got it a year ago almost. Put in new SEA-LECT peddles and wide base seat.
So I have the following Current Designs kayaks.
Libra XT
Solstice
Extreme
Extreme HV
Expedition
Seaward Passat Tandem would be interesting.
Possibly one skeg boat also.
Have a 13' Hobie Quest SOT
and an 15' Ocean Trident SOT
pristine condition.
And honeys 15' Eddyline Journey she likes it, I don't like the seat.
She loves the Libra XT 22' Tandem
My 12 ish foot Grumman, and my son in his feel free lure, fishing and camping the Colorado River, near horseshoe bend.
My wife, @Lillyflowers, took two great photos of me and my boat for this thread.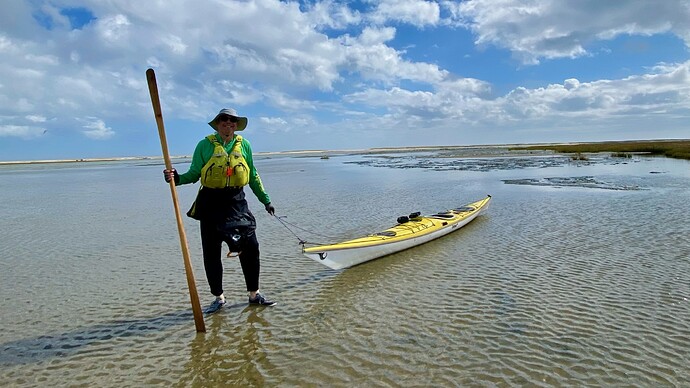 Nice photos

all.
Updated my graph this summer from a 18 year old Lowrance to a new Hook2 5x. Bought another transducer so I can share the unit on the bow of my bass boat.
I currently have three kayaks:
Tiderace Xceed S in carbon (blue/yellow)
Valley Gemini SP RM (red)
Dagger Stratos 12.5 S (lime) S
Yes I think my last one. Well maybe not would like one skeg kayak for the hell of it.